Abdullah Al Darmaki

Vice President-Petrochemicals
Abu Dhabi Polymers Park Project Leader


Mr. Al Darmaki joined ADNOC's Marketing Department In 1994, overseeing the Market research and Price formalizing of crude oils and products, before being seconded to Borouge PTE Singapore In 1998 , as a Sales Manager to cover South East Asian Market and Japan.
In 2005 , he was appointed as the Chief Sales & Marketing Officer of TATWEER, member of Dubai Holding .

------------------------------------------------------------
Abdul Aziz Abdulla Al Hajri

Chief Executive Officer
Abu Dhabi Polymers Co Ltd (Borouge)
Abdul Aziz Abdulla Al Hajri was appointed Chief Executive Officer of Abu Dhabi Polymers Ltd (Borouge) in October 2007.
Mr Al Hajri has more than 20 years of experience in Operations and Technical Services management with the Abu Dhabi National Oil Company's (ADNOC) gas processing company Gasco. Prior to joining Borouge he was Assistant General Manager (Technical) at Gasco headquarters in Abu Dhabi.
Born in 1963, Mr. Al Hajri is a UAE national citizen with a degree in Chemical Engineering from the University of Texas, USA.
------------------------------------------------------------
Darren Davis
Managing Director
Head of Project & Export Finance, Middle East & North Africa
HSBC
Dubai, UAE

HSBC remains the most active provider of project finance advisory services to projects in the Middle East region and Darren has responsibility for the bank's Project & Export Finance business in the Middle East and North Africa region. He has over 10 years experience in the project finance business and has been based in the region since 1999, including 5 years in Saudi Arabia. He has led numerous advisory and lead arranging assignments in the Gulf region across a range of energy projects including oil, gas, refining, petrochemicals, and power. Recent major transactions include the US$1.8 billion financing for the SEPC petrochemical project in Saudi Arabia, the largest non-recourse financing ever closed in the Middle East petrochemical sector and which included a combination of commercial, governmental and ECA financing sources; the US$525 million financing for Al-Waha Petrochemicals, which for the first time utilised Islamically structured project finance without any conventional debt; and the US$1.1 billion Aromatics Oman financing, the largest deal closed in Oman in 2006.
------------------------------------------------------------
Dr. Mohammad Fatemi


President and Managing Director of Middle East PetroChem Engineering & Technology (MEPET)
Dr. Mohammad Fatemi is the President and Managing Director of Middle East PetroChem Engineering & Technology (MEPET). He is responsible for all technical and management related activities of MEPET.
Dr. Fatemi was born in March 1952 in Natanz, Iran. He moved to United States in 1978 for a higher education and obtained his Ph.D. degree from Penn State University in 1988.
Dr. Fatemi has been working in the oil, gas and petrochemical industry for more than twenty five (25) years. During his 25 years in the industry, he has worked for a number of major companies including the Iranian National Oil Company (NIOC), Amoco, British Petroleum (BP) and the Saudi Basic Industries Corporation (SABIC).
Dr. Fatemi has worked in the United States and in the Middle East as a researcher, plant engineer, process and project engineer, process design engineer, laboratory manager, project manager, consultant, corporate strategic planner and organizational planner.
Dr. Fatemi has experience in refining and refinery processes, gas processing and utilization (LNG, CNG and ANG), chemical process technologies and coal utilization, including gasification, liquefaction and combustion.
------------------------------------------------------------

Giancarlo Cotone
Giancarlo Cotone, 59, graduated in Chemical Engineering from the Rome University ( Italy) in 1971 and has since worked in many different sectors of the engineering and construction industry during over 35 years, spending over 10 years in overseas assignments. You can address questions to him in English, Spanish, French and of course Italian.
He has worked in most disciplines of an EPC contractor, from process to feasibility studies, from procurement and subcontracting to project management, from proposals to BOO business development and to sales.
His experience was acquired with different EPC contractors in Italy and France, and also with international power developers in London and Los Angeles.
He joined Foster Wheeler's Italian office in 1998, and worked in Milano as Director Proposals up to early 2004, when he moved to this Region as Vice President Global Sales and Marketing for Saudi Arabia, based in Al-Khobar (KSA).
As of October 2005, he has taken over as Senior Vice President Global Sales and Marketing for the whole Middle East, for Foster Wheeler International.
He is also General Manager of Foster Wheeler Arabia Limited and Foster Wheeler International Abu Dhabi, holding the responsibility to support FW projects being executed in these countries.
------------------------------------------------------------

Abdullah S. Bin Zaid Al Hagbani

Secretary General
Gulf Petrochemicals and Chemicals Association (GPCA)
Nationality : Saudi
1984 - August 2005
Saudi Basic Industries Corporation (SABIC), Saudi Arabia
- Held various positions from Manager to General Manager in Marketing & Sales Division.
- Membership of several committees and member of Board of Directors of various SABIC's Saudi & foreign affiliates
September 2005 – February 2006
Saudi Basic Industries Corporation (SABIC), Dubai, U.A.E.
Position held: General Manager
March 2006 till date
Gulf Petrochemicals and Chemicals Association (GPCA), Dubai, UAE.
Elected as the Secretary General of the newly formed association (GPCA)
------------------------------------------------------------

Harald Hammer

Chief Executive Officer
Borouge Pte Ltd
Harald Hammer leads Borouge's sales and marketing arm, Borouge Pte Ltd. He assumed his current position as Chief Executive Officer of Borouge Pte Ltd in January 2007. Based in the Sales and Marketing headquarters in Singapore, Mr Hammer will be responsible for overseeing the company's overall sales and marketing and supply chain activities.
Mr Hammer was previously the Vice President of the film and fibre business unit at Borealis, Borouge's joint venture co-owner, a position he had occupied since April 2002. He joined Borealis in 1998 from PCD of Austria as General Sales Manager for polypropylene when PCD was integrated into Borealis. Other positions that Mr Hammer held at PCD include that of Marketing Manager in polypropylene and Leading Product Manager.
Mr Hammer, 41, holds a degree in economics from the University of Linz, Austria and has an MBA from the University of Toronto, Canada.
------------------------------------------------------------

Abdulrahman A .Hussain Jawahery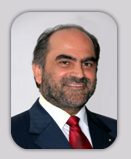 Born in 1956, he is a Chartered Chemical Engineer with BSc and MSc degrees in Chemical Engineering from UK, a Chartered Scientist and Chartered Environmentalist. He established his work career in BP Research Centre, UK for two years before joining the Gulf Petrochemical Industries Co. (GPIC) in 1983. Having undergone extensive training and development both in Bahrain as well as overseas, he held a number of senior positions in GPIC including Operations Manager, Urea Project Manager, Plants Operation Manager and now as General Manager.
Mr. Jawahery, is a member of the Shura Consultative Council of the Kingdom of Bahrain, a Board Member of the National Oil & Gas Authority, Deputy Chairman of the Arab Fertilizer Association (AFA), Chairman of the Technical Committee of the International Fertilizer Industry Association (IFA) and Founder Member of the Bahrain Society for Transfer of Technology.
Mr. Jawahery is also an Ambassador of the National Examination Board in Occupational Safety and Health - Great Britain, as well as a member of a number of professional and social societies including Fellow of the Institute of Chemical Engineers (UK), Life Member of the American Institute of Chemical Engineers and Life Member of the Bahrain Society of Engineers,
------------------------------------------------------------


Just Jansz

President, Basell Technology Business

Just Jansz was appointed president of the Basell Technology Business in March 2004. He is based in Frankfurt and his responsibilities include licensing, new ventures, catalysts and technology services.
Born in 1957 in The Netherlands, he obtained a MSc in Mineral Engineering and a PhD in Chemical Metallurgy at Delft University of Technology. He joined Shell in 1981 and subsequently hold positions in R&D, engineering and sales & marketing.
He became commercial director for the Benelux and Nordic countries for Basell predecessor company Montell in 1997, director Automotive Business Europe in 1999 and was appointed senior vice-president, Advanced Polyolefins, when Basell was formed in 2000.

------------------------------------------------------------

Malini Hariharan


Country Manager
Malini Hariharan, country manager, India, for ICIS, has over 15 years of experience in covering the chemicals industry. Malini, formerly deputy editor of Asian Chemical News, has been regularly reporting and analyzing the performance of the Asian industry and has interviewed many of the movers and shakers in China, India, Japan, South Korea, Southeast Asia and the Middle East.
Malini started her career with Indian Petrochemicals Corp (IPCL) and was involved in the marketing of polymers and chemicals as well as the strategic planning for these products.


------------------------------------------------------------

Dr. Nurallah (Noor) Jivraj

Jacobs Consultancy, Marble Arch, London, UK
Prior to joining Jacobs Consultancy in 2006, Noor was with Nexant-ChemSystems for 2 years. Previous to that Noor spent almost 16 years working for The Dow Chemical Company in the Netherlands (Terneuzen) and in Freeport, Texas.
Noor has extensive experience in commercial, business, marketing and technology consulting in the petrochemical industries. For example, Noor served as the Key Technical Advisor for SABIC in the GE Plastics acquisition, and has also served as the Key Asset Value Consultant for Reliance Industries. He has also authored many multi client reports, especially for olefins and polyolefins.
Noor has a very broad range of operational, design, engineering, research and technical services in hydrocarbons, polyolefins including metallocene polyethylene and ethylene and propylene based elastomers and plastomers, styrenics plastics, engineering plastics, and thermosets - both urethanes and epoxies.


------------------------------------------------------------

Phil Parker



General Manager New Business Development
Phil joined Shell Chemicals in August 1980 with a Masters degree in Chemistry from Oxford University. After early assignments in the polypropylene and industrial chemicals businesses, he moved into the higher olefins and derivatives business, becoming Business Manager in Asia Pacific in 1992, based in Singapore.
In 1996, Phil moved back to London to become Strategy and Planning Manager for the styrene monomer/propylene oxide business, before later becoming Global Business Manager for propylene oxide and urethanes.
Phil then spent time as Project Manager Customer Fulfilment, before moving back to Singapore in 2003 to assume the role of Deputy Managing Director at the Petrochemical Corporation of Singapore (PCS) manufacturing plant.
In April 2007, Phil took up his current assignment of General Manager New Business Development, based in Doha, Qatar.
Phil has two grown up sons. His interests include golf, soccer, singing and running.

------------------------------------------------------------

Dr Philip Leighton

Director – Jacobs Consultancy

Philip has spent over 17 years as a consultant to the petrochemical industry. Philip is director of the petrochemicals practice of Jacobs Consultancy. He is based in the London office.
Previously he has worked for both Chem Systems and Trichem, where he has been involved in a range of project feasibility and marketing studies, valuation studies, master plans etc.

Philip's major areas of interest are in basic petrochemicals and polymers, and especially the refinery/petrochemical interface.

Major projects include assisting ADNOC in developing its entry into the petrochemical industry, (which led to the formation of the Borouge joint venture with Borealis), as technical consultant to Oman Refinery Company to develop a grassroots refinery and polypropylene project in Sohar, Oman, and in developing the 1 million ton/year Aromatics Oman Limited project.
------------------------------------------------------------

Dr Abdulwahab Al-Sadoun

Director General of the Energy Sector, SAGIA

Dr. Abdul Wahab Al-Sadoun is the Director-General of the Energy Sector at the Saudi Arabian General Investment Authority (SAGIA). Dr. Al-Sadoun assumed the post in December 2004.
A 1990 PhD graduate of the University of London in Industrial Chemistry, Dr. Al-Sadoun started his professional carrier with SABIC as a Senior Researcher in the R&D Center (Riyadh, Saudi Arabia) where he worked from July 1990 to October 1995. He then joined the Qatar-based Gulf Organization for Industrial Consulting (GOIC) in January 1996 where he worked as a Petrochemical Expert in the Industrial Projects Department until June 1997. In July 1997, he was appointed Director of the Industrial Information & Coordination Department at GOIC. In November 2001, Al-Sharq Plastic Industries Co. (Riyadh, Saudi Arabia) appointed Dr. Al-Sadoun as the Senior Vice President until November 2003. In December 2003, he founded "AWS Industrial Consulting" and acted as its President until December 2004.
Dr. Al-Sadoun has 2 US Patents and published over 20 articles in refereed regional and international periodicals.
------------------------------------------------------------

Ali Hassan Al-Sidiky
- Graduated from the University of Oklahoma U.S.A in 1979.
- Received Bachelor Science Degree in Petroleum Engineering.
- Joined Qatar General Petroleum Corporation in 1979 as will-site Petroleum Engineer running offshore petroleum operations.
- In 1982 moved to petroleum Eng. Department as Production Engineering technologist in charge of well monitoring and offshore production facilities.
- In 1985 became Senior Production Engineer in charge of Production Engineering Development/studies.
- In 1989 became Head of Production Engineering Technology.
- In 1992 become Assistant Manager Petroleum Engineering Department.
- In 1997 moved from Oil business to Gas business where he was appointed as Manager Gas Utilization Ventures Department. In charge of all new Gas Development projects and expansion of the existing projects such as (QatarGas, RasGas), and new projects (Pipeline Gas and GTL).
- In 2004 he was appointed Directorate of Downstream Ventures in QP in charge of all Petrochemicals, Refining and Manufacturing Projects.
- He is chairman of board of directors for GAZAL joint venture company.
- He is also a member of Board of Directors, Management and Executive Committees in several QP's ventures and projects.
- He represents QP in several international organization and committees.
------------------------------------------------------------

Khalfan Al Muhairi
Khalfan Al Muhairi was appointed Application Marketing Manager to the Pipe Business Unit in Borouge Pte Ltd in 2007.

Mr. Al Muhairi is based in Borouge's sales and marketing office in Abu Dhabi, the United Arab Emirates. He is currently coordinating Borouge's "Water for the World" programme in the Middle East region, which aims to be a platform for partnership to address in a concrete and sustainable way the global water challenge.

Mr. Al Muhairi, born in 1979, is a UAE national citizen and holds a Bachelor of Science degree in Electrical Engineering from the University of Portland, USA graduating in 2004. In 2006, he was awarded dual Masters Degrees in Electrical Engineering and in Engineering and Technology Management from Portland State University, USA.
------------------------------------------------------------

Andrew Speir
Senior Vice President, Chemicals
Nexant Limited
Dr. Andrew Spiers has substantial experience in petrochemical, polymer, and gas-based chemical projects and manages Nexant's global chemicals business unit. He has performed a broad range of consulting assignments, including strategic planning, competitive analysis, and feasibility studies for a diverse client base. He has extensive experience of dealing with clients in the Middle East and Russia/CIS. Formerly he led Chem Systems' activities in Asia, based in Thailand, for a number of years.

Previously, with Shell Chemicals, Dr. Spiers served as a Chemicals Marketing Manager, Product Manager, and Research Technologist. He received his Ph.D. and B.Sc. in physical chemistry from Nottingham University.